Every database driven Website or Web Application needs to be managed, and that's where the term Content Management System (CMS) comes into play.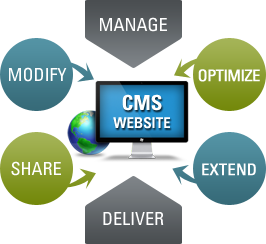 Essentially, a CMS is simply an administration panel where site owners and managers have the ability to update the content of a given website or an application.
So when it comes to choosing the correct CMS Platform for a website, business owners have several options!
So what exactly is a CMS web site?
CMS or a 'Content Management System' quite literally allows you to control and manage the content within your web site – without technical training. Using this uncomplicated system you can very easily add, delete images and edit text in your web site on the fly. You can also have an unlimited number of pages and a full site-search engine. What's more… with IWD you can have a highly professional CMS web site at a very reasonable price indeed!
Call us today for a free quote! 305-879-5241